My workshops focus on exploring how we sense and work with rhythm through our bodies in space and time, understanding rhythm as something physical and visceral. Through play, collective and individual investigation, improvisation and devising tasks, these sessions open up the potentials of rhythm in movement, language and sound on stage. These sessions offer performers the opportunity to explore the ways these elements can shape the meaning of a performance and their process training, devising and performing.
Upcoming Workshop Dates:
Athens, Masterclass with Zoe Katsilerou: 26-27 October, 2019
See below for details and also visit testimonials
Choreographic Approaches to Text:
Voice, Rhythm, Movement, Speech
Eilon Morris-Zoe Katsilerou
Athens, Greece
26-27 October
10.30-17.00
(Greek translation below)
A two day workshop lead by Zoe Katsilerou and Eilon Morris, focusing on the use of choreography and rhythm as a means for exploring, embodying and delivering text within actor and dance training.
Aiming to the smooth integration of speech and movement, this workshop will offer tools through which the voice will be further connected to the body, speech will establish deeper connections to movement, the body will listen to its internal rhythm and to the rhythm of the text.
Actions as vocabulary, text as choreography.
What can we learn from our movement with regards to the ways we speak a piece of text? What can the structure of a choreography teach us for the structure and musicality of text? How can a choreographic approach to text support and strengthen the integration of speech and movement?
Using simple tools such as the pulse of our heart, the mechanics of our movement and voice, as well as through imagination and creativity, this workshop will hold a safe environment for the participants to cultivate greater awareness towards their bodies and voices, their rhythms, the rhythm and musicality of a piece of text, and the synergy of these elements.
Encouraging play, improvisation and experimentation, we will work with our bodies and voices, with ourselves and with others. We will allow text and movement to inspire us, and we will seek inspiration from within.
This work is a combination of Zoe and Eilon's practices and research, whose collaboration offers a holistic training for the actor, through tending to the development of the body-mind.
Price for weekend: €50
Offers available for attending other workshops in the DUENDE Masterclass series:
Two weekends €80
Three weekends €105
Four weekends €120
deposit: 25 euro
For further details see: https://www.facebook.com/events/427678797858547/
for bookings contact Thekla Gaiti
theklaridi@gmail.com
6932002524
****************************
Ένα διήμερο σεμινάριο με την Ζωή Κατσιλέρου και τον Ειλόν Μόρρις, με επίκεντρο την χρήση της χορογραφίας και του ρυθμού ως τρόπο εξερεύνησης, ενσωμάτωσης και εκφοράς κειμένου για ηθοποιούς και χορευτές.

Στοχεύοντας στην ομαλή ενσωμάτωση του λόγου με το σώμα, αυτό το σεμινάριο θα προσφέρει εργαλεία με τα οποία η φωνή θα συνδεθεί βαθύτερα με το σώμα, ο λόγος με την κίνηση, το σώμα με τον εσωτερικό του ρυθμό και με τον ρυθμό του κειμένου.

Κινήσεις σαν λεξιλόγιο, κείμενο σαν χορός.

Τί μπορεί να μας διδάξει η κίνηση μας για τον τρόπο που εκφέρουμε ενα κείμενο; Τι μπορεί να μας διδάξει η δομή της χορογραφίας για τη δομή και την μουσικότητα ενός κειμένου; Πώς μπορεί η χορογραφική προσέγγιση σε ένα κειμένο να ενισχύσει την ενσωμάτωση του λόγου με το σώμα;

Με τη χρήση απλών εργαλείων όπως ο ρυθμός της καρδιάς μας, η μηχανική της κίνησης του σώματός μας και της φωνής μας, και με ενθάρρυνση της ευρείας χρήσης της φαντασίας και δημιουργικότητας, το σεμινάριο θα αποτελέσει ένα ασφαλές περιβάλλον ώστε οι συμμετέχοντες ώστε να καλλιεργήσουν μεγαλύτερη ενσυνείδηση προς το σώμα και τη φωνή τους, το ρυθμό τους, το ρυθμό και τη μουσικότητα ενός κειμένου, και την συνεργασία αυτών των στοιχείων.

Μέσω του παιχνιδιού, αυτοσχεδιασμών και πειραματισμών, θα δουλέψουμε με το σώμα και τη φωνή, σαν μονάδα και σαν ομάδα. Θα χρησιμοποιήσουμε κείμενο ώς έμπνευση, και θα αναζητησουμε την έμπνευση βαθιά μέσα μας.

Η πρακτική του σεμιναρίου είναι μέρος της έρευνας των εκπαιδευτών, Ζωή Κατσιλέρου και Ειλόν Μορρις, και η σύνθεση τους προσφέρει ολιστική εκπαίδευση του ηθοποιού, η οποία τείνει στην φροντίδα και εξέλιση του σώματος-πνεύματος.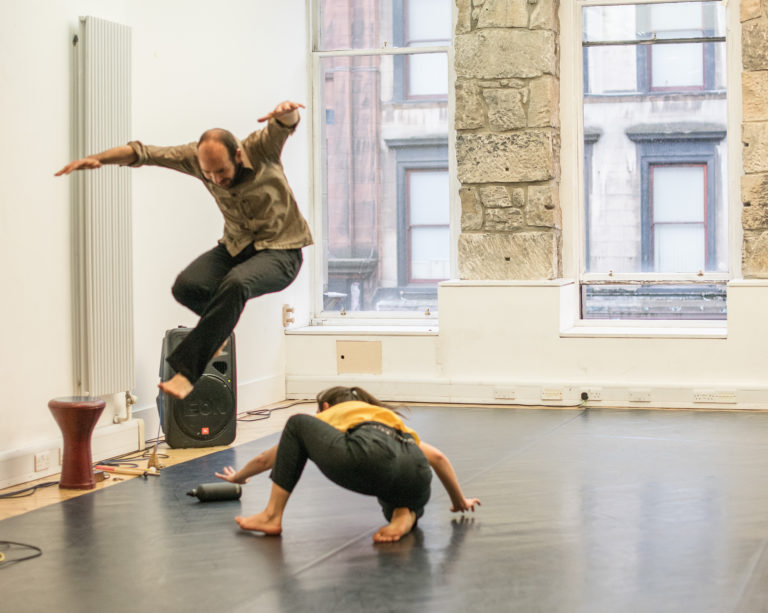 Crossing the Grain
Counterpoints of Movement, Music and Language
Au Brana Cultural Centre, South of France, 12-18 August 2019
How do we alter or contrast an established tempo?
How do we work outside of our habitual sense of rhythm?
How do we find play and nuance in repeated material?
As part of this year's OBRA workshop series, Eilon Morris will be running a six-day intensive on the theme of 'counterpoints'.
Working through embodied approaches to rhythm, music and language, this residency will focus on ways of layering rhythms, contrasting dynamics and breaking patterns in performance. This intensive training process offers core skills and principles applicable across a wide range of performance practices offering valuable training for actors, dancers, musicians and other creative practitioners. This workshop will be assisted by Zoe Katsilerou, a voice and movement practitioner who will lead technical work on relationships between voice, movement and language as well as providing musical support and accompaniment.
To apply please contact Oliviero at info@aubrana.com with application form OBRAWORKSHOPSAPP
Workshop fee: €200
Accommodation and food: €150