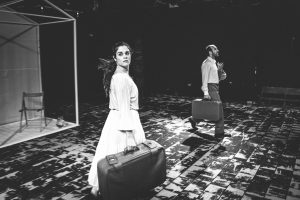 I am currently collaborating with performer and musician Zoe Katsilerou in the making of a new work, A Day A Year-and-a-half. We are also working as collaborators in the running of workshops for performers focused on rhythm, musicality, voice and instrument making.
Zoe is a freelance theatre practitioner, singer and pianist based in Glasgow. Her work focuses on the training of movement and voice, and on the relationship between these elements, with a particular interest in poetic language and physicality.

Duende is an international ensemble of performers and creative facilitators whose work explores the meetings of individuals, creative disciplines and cultures. I have been associate director of Duende since 2011 and have worked with the artistic director John Britton since 2001 in Australia where I was a member of his Quiddity Ensemble. Over the last decade, I have collaborated with John Britton on a vast range of performances, workshops and research projects.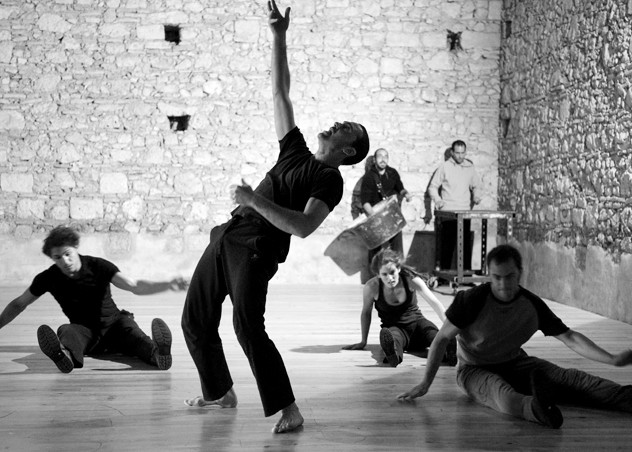 OBRA Theatre Company are based in the south of France, working out of the Au Brana Cultural Centre which was founded in 2005 by Kate Hannah Perry and Oliviero Papi. Along with the other founding members Unai Lopez de Armentia and Hannah Whelan, OBRA has developed its own dynamic approach to theatre making based in the imaginative world of storytelling and the visceral power of language embodied within performance.
I am currently working with OBRA on a performance trilogy based on Ted Hughes's text Guadete, which will premier in the UK in March 2017. OBRA also runs a number of workshops and collaborative research projects throughout the year at the Au Brana Cultural Centre.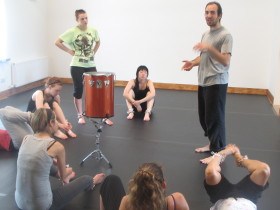 I am an associate artist of Whitestone Arts. Converted from 17th century farm buildings on the edge of Haworth Moor in West Yorkshire, Whitestone is a residential arts space that hosts workshops and creative projects as well as offering accommodation to walkers and other visitors to the area. The home of writer Judith Adams and photographer Simon Warner, a common theme in much of the work taking place here is meetings between landscape, language and motion.