Here you can find details of previous workshops I have run and collaborated on. Feel free to get in touch to find out more details and go to upcoming workshops page for current details.
From Pulse to Polyrhythm
III Jornadas Internacionales el Ritmo en las Artes (JIRA)
Buenos Aires 3rd and 4th of November 2017
This year I gave a presentation of my book and workshop in Buenos Aires as part of JIRA III. This workshop explored the theme of simultaneity in ensemble
performance, beginning from the sense of one's own pulse and building to an awareness of the polyrhythms of the ensemble. How do we tune into the pulse, the breath, the motion of the ensemble? How can we be present in our own actions while also being aware of our relationships with others? How do we build complexity from the play of simple rhythms in performance? Through an embodied approach participants encountered ways of perceiving and generating rhythms of physical actions and voice, applying these principles to improvisation and choreography.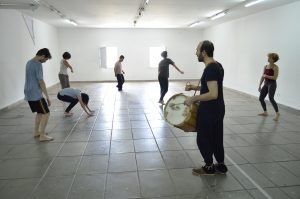 Rhythm in performance
30 September – 1 October Athens, Greece

As part of this year's Duende Masterclass series I led a two-day workshop on rhythm as a tool for performers.
These sessions focused on:
the development of the performer's musicality
the composition of multiple rhythms within an individual and across an ensemble
Over these two-days participants explored ways of tapping into and shaping the rhythms of performance. Through movement and voice, we played with a range of rhythmic principles, applying these in improvisations and in the creation of material for solo and ensemble performance.
OBRA Summer Residency 2017
3 – 21 July at the Au Brana Centre, France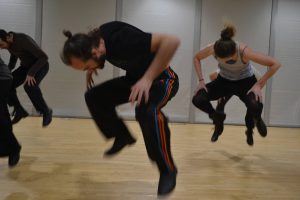 A 3 week intensive residential workshop led by Kate Papi, Oliviero Papi, Eilon Morris and Fabian Wixe of OBRA Theatre.
This residency focused on the relationship between the physical life of the actor and poetic language in performance.
Participants were be led by the 4 practitioners in different areas of theatre techniques and applied these training tools to generate and shape performance material in response to poetic language.
Finding Play
Workshop and research paper presented at 3rd International Conference of the Dalcroze Studies, Université Laval, Québec City, Canada (30 July – 03 August 2017 )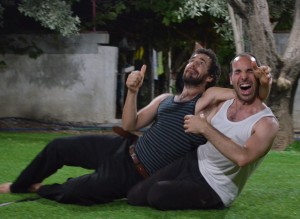 This workshop looked at ways in which actors and performers can encounter rhythm through play and improvisation. This body of work drew from practical research undertaken over the last ten years. These practices have grown out of my work as a facilitator of training for performers in rhythm, musicality, movement, and voice, building on research into children's games and the work of other practitioners in this field including John Britton, Reinhard Flatischler and Nicolas Nunez.
More details of this workshop and conference can be found here:
Ο Ρυθμός του Λόγου – της Κίνησης και του Χώρου
Pathways of Performance -The Rhythms of Text, Movement and Space
2-3 January 2017, BlackBox Thessaloniki

A two day workshop led by actor-musicians Eilon Morris and Zoe Katsilerou.
A performance is a composition of rhythms: of voice, of movement, the space we inhabit. The creative process involves exploring the ways these rhythms relate to each other, to us as performers and to our audience. How do we move through these spaces and how do our experiences of the world inform the ways we make theatre? In this two day workshop we will explore the rhythms of voice, movement and space as tools for actor training and devising. This work has evolved from the creative process of making "A day and A year-and-a-half" and draws on techniques of musicality of voice and movement as well as aspect of Psychogeography and urban wandering.
Each morning of the workshop involve physical and vocal training and the development of core skills in rhythm, improvisation and text. The afternoons will offer a chance to apply these skills to the making of material for performance. As part of this process, participants will be set tasks by which they will journey through the city, documenting these experiences and using these as a stimulus for devising.
Finding Music in Found Objects
Glasgow, Centre for Contemporary Arts (CCA) 29 October 2016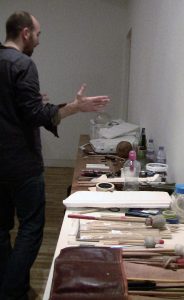 This workshop explores ways of generating music and making instruments from the objects we find around us. Participants discover different ways of making sounds as well as improvising and generating compositions as part of an ensemble using found-object percussion. We make our own basic instruments from objects collected from home or elsewhere and play with creative ways of making sounds through adapting, combining and experimenting with the ways we interact with objects. This workshop is suitable for musicians and performers from all backgrounds with an interest in the use of objects in performance.
Rhythm as a Tool for Performers
Athens, Arts Factory 1-2 October 2016
A two-day masterclass working with rhythm as a tool for performers.

These sessions focus on:
the development of the performers' musicality
awareness and embodiment of rhythm as an ensemble and as a solo performer
compositional approaches in improvisation, dramaturgy and choreography
working with polyrhythm as individual and as an ensemble
Over these two-days participants explore ways of tapping into and shaping the rhythms of performance. Through movement and voice we play with a range of rhythmic principles, applying these in improvisations and in the creation of material for solo and ensemble performance. This workshop is open to performers from all backgrounds including actors, dancers, musicians, circus and physical performers.
Regarding Landscape
Sussex Performance Composition Camp 29 August – 3 September 2016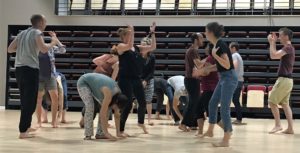 Five-day intensive performance-making summer school co-hosted by University of Sussex Drama and the Attenborough Centre for the Creative Arts (ACCA). Led by theatre artists Karen Christopher (Goat Island, Haranczak/Navarre) and Augusto Corrieri with interventions from Eilon Morris and Sara Jane Bailes.
La Simultaneidad en la Practica Esenica
Baratza Aretoa, Vitoria 4-8 July 2016
Workshop led in collaboration with Kate Papi (OBRA Theatre Co) exploring simultaneity as a practical tool for performers. This workshop offered training and compositional approaches to performance working with rhythm, movement and ensemble devising techniques.
See upcoming workshops and testimonials