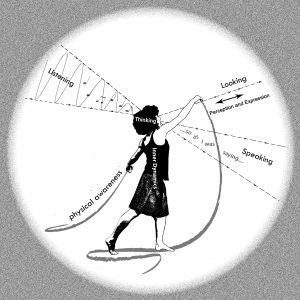 My main research interests relate to the themes of rhythm, embodiment, ensemble and improvisation within performance and training. This interdisciplinary research includes ongoing practical and theoretical enquiry into the pedagogy and performance of theatre and music, as well as historical and theoretical research into embodied understandings and approaches to rhythm across a range of contexts including theatre, dance, music, language and other cultural practices.
My PhD, completed in 2013 at Huddersfield University, investigated the role of rhythm within various approaches to actor training. This research can be found in my thesis Via Rhythmos, which is available online. Building on this research, I have written a book, Rhythm in Acting and Performance: Embodied Approaches and Understanding, published by Bloomsbury, Methuen Drama in July 2017. Over the last few years I have also presented a number of research papers at conferences including  Rhythm as Pattern and Variation : Political, Social and Artistic Inflections – Goldsmiths University, London, 2016, the 3rd International Conference of Dalcroze Studies at the Université Laval, Québec, Canada, and the III Jornadas Internacionales el Ritmo en las Artes, Universidad Nacional de las Artes, Buenos Aires, Argentina.  See writings for more details.
One of the practical outcomes of my PhD research was a body of work, titled Orbits. This practice is made up of a collection of training forms involving polyrhythmic movement choreographies. Further details of this work can be found here.
Video footage of other training practices documented for my PhD can also be seen via the following links:
Previous Research Projects
This two week practical investigation involved a collaboration between myself, Kate and Olivero Papi at the Au Brana Cultural Centre in the south of France. This session focused on exploring simultaneity; the realisation of multiple performance elements taking place at the same time. We investigated ways of working with simultaneous rhythms of action and attention in performance, and how sounds, movements, language, thoughts, feelings and imagination could be integrated and separated out in an individual's performance and across an ensemble.
Practice as research project investigating the application of principles of polyrhythm and simultaneity in the training of actors including field work in Mexico with Nicolás Núñez and studio practice in the UK.
Archiving, documenting and editing video footage of actor training and workshop sessions with Nicolás Núñez. Uploading and cataloguing material for online access and future research.
Practice-as-research projects with Tracey Wilson, researching the use of psychophysical scores and multi-linguistic performance techniques, starting from training with kalaripayattu and rhythmic training forms, this project led on to the application of this training within a creative project based on Bruce Myers' adaptation of the Dybbuk.
Research assistant, main duties conducting interviews with participants regarding their ongoing relationship to a set of training practices. Documenting, collating and presenting this data for analysis.
Member of collaborative research project led by Andrew Morrish, investigating ways of gathering and analysing qualitative data from improvised performances.
| | |
| --- | --- |
| Research at the Taller de Investigación Teatral in Mexico City, 2010 | Researching Ball Game training with John Britton, Huddersfield, UK, 2011 |
| Rhythm training with OBRA Theatre Co. at Au Brana Cultural Centre, France, 2011 – Photo by Linnéa Pattersson | Rhythm Workshop at Whitestone Arts, UK 2012 – Photo by Simon Warner |

BOOKS AND ARTICLES
RESEARCH PAPERS
DOCTORAL THESIS