Hollowed out,
clay makes a pot.
Where the pot's not
is where it's useful.

Cut doors and windows
to make a room.
Where the room isn't,
there's room for you.

So the profit in what is
is in the use of what isn't.

– Lao-Tzu, translated by Ursula Le Guin
Focused on the theme of 'negative-time', these rhythm workshops will explore ways of dropping into, opening out from, and sliding between moments in time. Participants will cultivate their capacity to observe and play in the gaps, exploring the creative potential for movement, sound and language to spring from what is not, rather than what is. These creative tools will be directly applied to solo and ensemble improvisation, with this work being of particular interest to actors, dancers and physical performers as  well as musicians with an interest in physicality and movement.
Eilon's approach to working with rhythm in performance draws on wide range of disciplines including psychophysical actor training, movement improvisation, embodied polyrhythms and children's games. Weaving these approaches together, Eilon has created an accessible yet challenging way for performers to explore the potentials of rhythm in their work, combining play with rigour and personal enquiry.
This practice has grown out of over twenty years experience working with theatre, dance and music ensembles in Australia, Europe and America, including Duende, OBRA Theatre, Co. and Quiddity Theatre, as well as research at the Centre of Psychophysical Performance Research and the Taller de Investigación Teatral.
Singer and physical performer, Zoe Katsilerou will also assist on these workshops and lead work on voice and language.
ATHENS WORKSHOP
  X-act place,  Votanikos, Athens,  30 March – 1 April , 2018
Times:
Friday 30 March: 6.30pm – 10pm
Saturday 31 March: 10am – 5pm
Sunday 1 April: 10am – 5pm
Cost:
40 Euros early bird (before 9 March), 60 Euros standard
Contact:
mail@eilonmorris.com for use the contact page on my website for queries and bookings
GLASGOW WORKSHOP
GTAC, Govan, Glasgow  13 April – 15 April , 2018
Times:
Friday 13 April: 6.00pm – 9pm
Saturday 14 April: 11am – 5pm
Sunday 15 April: 11am – 5pm
Cost:
£60 early bird (deposit of £30 paid before 23rd March) * £75 after 23rd March ///
For Booking Please Contact: projectpoza@gmail.com 
Further details can be found here: https://www.pozaproject.org/workshops–classes.html
OBRA SUMMER RESIDENCY
Au Brana Cultural Centre, South of France 2nd – 22nd July 2018

Once again I will be leading work at OBRA theatre's 3 week intensive residential session, alongside  other company members Kate Papi, Oliviero Papi and Fabian Wixe. This residency is for makers and performers from any discipline, and it is an opportunity to plunge into OBRA Theatre Co's rigorous and innovative approach to theatre making, actor training and devising for performance, all focussed upon the relationship between the physical life of the performer and language. For full outline and applications go to the OBRA website here 
SOUTH OF FRANCE WORKSHOP
Au Brana Cultural Centre,  20th – 25th August 2018
Five day residential workshop at the Au Brana Cultrual Centre in Pauilhac, South of France.
The cost of this session is €150 and all accommodation and food on site at Au Brana for an additional €150. To apply please contact Oliviero at info@aubrana.com with application form OBRAWORKSHOPSAPP
THE DUENDE SCHOOL of ENSEMBLE PHYSICAL THEATRE
India, October – December 2018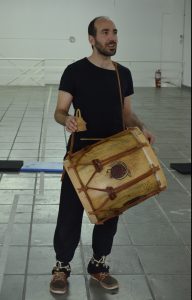 In 2018, for the first time, The DUENDE School of Ensemble Physical Theatre will operate outside Europe. Over 9 weeks, split
into two blocks of work in two different locations, up to 20 students will engage in demanding ensemble and physical training, culminating in a fully staged production directed by the Artistic Director of DUENDE, John Britton. I will be teaching as part of the first three week block held in Maharshra. See below for details.
14th October until 4th November – Maharasthra
The first block of training will take place at Kamshet – a remote, residential rural retreat centre about 4 hours from Mu
mbai. There we will live, eat and train together for 20 days, encountering the core approach to ensemble, physicality and performance that is at the heart of The DUENDE School, an approach called
Self-With Others
. Each morning there will be core training, each afternoon you will encounter key performance skills and engage in solo and shared creative tasks, each evening there will be a chance to perform. It will be an intense immersion in being a performer of physical ensemble work, on the edge of a lake in the shadow of the mountains of rural Maharashtra.
5th November until 11th November.
Then there will be a one-week break.
12th November – 14th December – Bangalore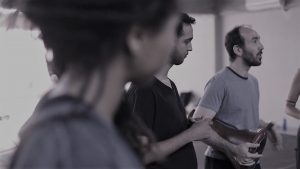 When we meet for the second half of the course, it will be at Shoonya in Bangalore. There we will work for five days a week, continuing to train and rehearsing a fully-staged physical performance, which we will present publicly to conclude the course. All of the training you encountered in the first half will be applied directly to the process of making and presenting disciplined, passionate, live ensemble theatre. You will complete the course with a deep understanding of the personal and interpersonal disciplines of physical performance making. You will have embodied a rigorous set of principles and perspectives which you can apply to any style of performance, and which will serve to make you focused, live and empowered in your work.
Please see other notes on this page for more information about the content of the course, fees, admission process and the tutors:
Contact: manjari@duende-ensemble.com