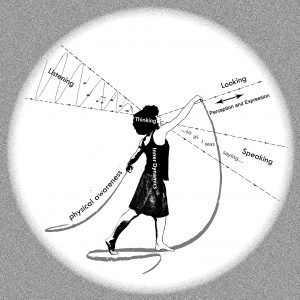 Being both an actor and percussionist, I have long had a deep interest in the ways in which the rhythms of theatre and music intersect and speak to one another. This has lead to a number of areas of research including work investigating the role of rhythm within psychophysical actor training, culminating in my PhD project Via Rhythmos. completed at Huddersfield University in 2013.
Building on this research I have recently completed work on a book, Rhythm in Acting and Performance: Embodied Approaches and Understanding , published by Bloomsbury, Methuen Drama in July 2017, and presented research papers at conferences including  Rhythm as Pattern and Variation : Political, Social and Artistic Inflections – Goldsmiths University, London, 2016 and the 3rd International Conference of Dalcroze Studies at the Université Laval, Québec, Canada. See writings for more details.
Other key areas of my performance research include improvisation, ensemble training and performance, performance composition/dramaturgy, applications of play and ritual in performance and pedagogy.
Orbits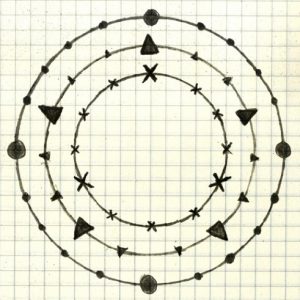 During the course of my PhD I developed a collection of polyrhythmic movement patterns named Orbits. This work grew from a question of how to train awareness of simultaneity and polyrhythm in performers. While researching the
application of traditional dance forms within actor training with the Taller de Investigación Teatral in Mexico City, I was inspired to develop a training form in which dancers moved within concentric circles. Exploring this work with a number of groups in the UK, Greece and France, I found that these practices opened up many new potentials for performers, helping cultivate greater awareness of the relationship between the performers' own actions and those of the ensemble, and their capacities to bring together multiple performance elements into their experience of the present moment.
Reflecting on a series of Orbits workshops with masters students at the Royal Central School of Speech and Drama one tutor commented:
He was able to take our students through polyrhythmic patterns that found them experiencing themselves as individual parts of a greater whole. They found themselves experiencing different modes of thought and action and they experienced a kind of body intelligence only theorized before this.The rhythm work in Eilon Morris's workshops offers a basis for structural strategies and can promote climates of attention that provide disciplined working environments. Through his rhythm work we find strategies to unify and support productive ensemble dynamics.

–Karen Christopher, Haranczak/Navarre
A participant in another workshop commented:
Polyrhythms which would have appeared terrifying written in score form were eased out of us as simple things. Or even unconscious things.

–Alex Kyle, Musician and Choir Leader
| | |
| --- | --- |
| Research at the Taller de Investigación Teatral in Mexico City, 2010 | Researching Ball Game training with John Britton, Huddersfield, UK, 2011 |
| Rhythm training with OBRA Theatre Co. at Au Brana Cultural Centre, France, 2011 – Photo by Linnéa Pattersson | Rhythm Workshop at Whitestone Arts, UK 2012 – Photo by Simon Warner |
Following on from this intensive research into actor training, I am now focusing my attention on the ways the skills and principles encountered in my earlier research can be further applied within performance practices. Creating new work and performing with OBRA Theatre Co. (since 2011) and Duende (since 2010), I have been exploring the application of principles including simultaneity, and rhythmic choreography in performance. In this work I have further explored the role of rhythm as both a structural/compositional device and as quality of flow and vitality in performance.
Further details about the process of developing Orbits can be found in my PhD thesis, and other reflections on this process can be found in my book, Rhythm in Acting and Performance.
Video footage of other training practices documented for my PhD can be seen here:
Past Research Projects
2014
 Co-researcher,  Simultaneity: OBRA Open Session

This two week practical investigation involved a collaboration between myself, Kate and Olivero Papi at the Au Brana Cultural Centre in the south of France. This session focused on exploring simultaneity; the realisation of multiple performance elements taking place at the same time. We investigated ways of working with simultaneous rhythms of action and attention in performance, and how sounds, movements, language, thoughts, feelings and imagination could be integrated and separated out in an individual's performance and across an ensemble.

2011 –2014
Lead Researcher, Rhythm Research Workshop: Orbit Research Project

Practice as research project investigating the application of principles of polyrhythm and simultaneity in the training of actors including field work in Mexico with Nicolás Núñez and studio practice in the UK.

2012
 Research Assistant, University of Huddersfield: Centre for Psychophysical Performance Research

Archiving, documenting and editing video footage of actor training and workshop sessions for online access and future research

2011
Co-researcher, Wild Goose Theatre Laboratory

Practice-as-research projects with Tracey Wilson. Currently researching the use of psychophysical scores and multi-linguistic performance techniques, working with Bruce Meyers adaptation of the Dybbuk

2010
Research Assistant, University of Huddersfield: Anatomy of an Exercise

Conducting interviews with participants regarding their ongoing relationship to a set of training practices. Documenting, collating and presenting this data for analysis.

 

2009
Collaborator, University of Huddersfield: Research Methodologies in Improvised Performance

Part of team project led by research fellow, Andrew Morrish, investigating ways of gathering and analysing qualitative data from improvised performances.